Welcome to the StarDrive Wiki, an online encyclopedia for StarDrive that anyone can edit!
Stardrive 2
Edit
If you are looking for Stardrive 2, please visit our Stardrive 2 wiki and help out!
About StarDrive
Edit
StarDrive is a 4X action strategy game that was released in April of 2013 by Zero Sum Games and was published by Iceberg Interactive. StarDrive is currently available  for purchase on Steam
Current Build is 1.15B (see Patch Notes and WIP section of the forum for the list of changes).
---
Explore the categories below to learn more about StarDrive!
News and previews
Edit
Gameplay Guides
Edit
Have a strategy and want to share it with the community? Visit the Strategy section and contribute!
Bug Reports and Suggestions
Edit
We want your bug reports and suggestions! Visit the "Bug Reports and Feature Requests" forum on the StarDrive official site to contribute. You can also visit the bugs and suggestions page to help us out.
Featured Poll
What Is Your Favorite Race?
Featured Image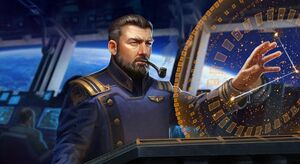 Featured Video
Ad blocker interference detected!
Wikia is a free-to-use site that makes money from advertising. We have a modified experience for viewers using ad blockers

Wikia is not accessible if you've made further modifications. Remove the custom ad blocker rule(s) and the page will load as expected.